Llainddu Farm Holiday Cottage - Farm
To book, or for further details, please call Cath or Alistair on 01559 372104 or email cath@llainddu-farm.co.uk
October availability! Book your autumn break now!
The cottage is situated at the end of a farm track and is adjacent to Llainddu Farmhouse which is occupied by owners Cath and Alistair. Visitors are permitted free access to woodland and fields across the farm, but are advised to take care as there are unfenced streams and steep, wet areas in the woods, and the fields are subject to normal farming activities. Access to these areas is thus granted on the clear understanding that it is at the visitor's own risk and children should be supervised at all times.


The aerial photograph shows the extent of Llainddu Farm (indicated by the yellow lines) and the position of the Holiday Cottage accessed by a long track descending from the entrance on the southern boundary. The red lines indicate some of our favorite walks which include an interesting variety of landscapes and habitats including pasture, mature woodland, heathland and younger mixed woodland.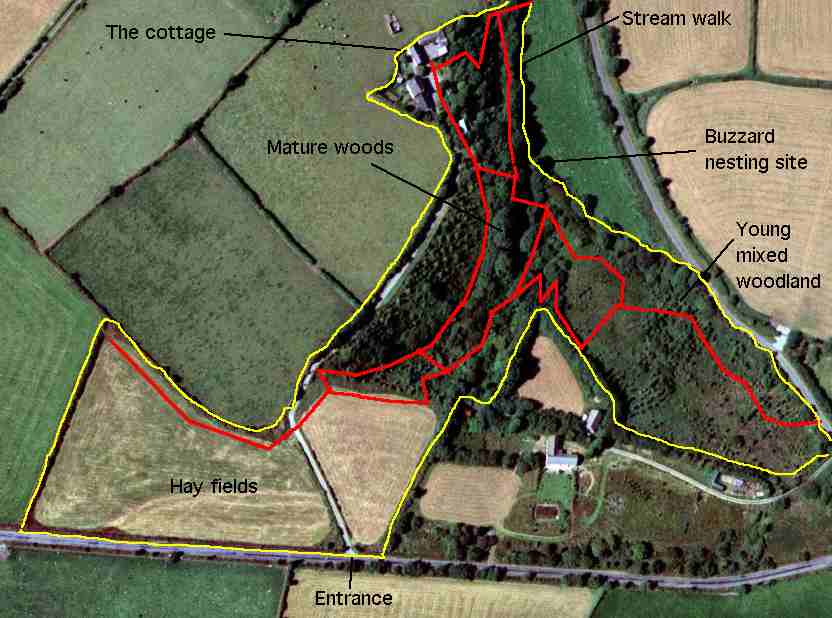 Situated in the heart of south west Wales in the Carmarthenshire countryside, with the lovely beaches of Cardigan Bay and Pembrokeshire in easy reach, Llainddu Farm Holiday Cottage commands superb views across the beautiful Teifi Valley and provides immediate access to fifteen acres of private woods and farmland, with farm walks and abundant wildlife. The tastefully restored and furnished cottage sleeps up to 7 people (cot also available on request).

Llainddu Farm Holiday Cottage, West Wales

|

Promote Your Page Too